Tim Bowen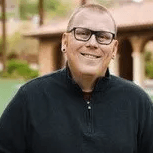 Tim joined Catholic Charities in March of 2006 as a Group Counselor at Catholic Charities St. Vincent's School for Boys. After a decade serving the youth at St. Vincent's directly, Tim moved into the Training Coordinator role, supporting staff at all levels in our youth residential programs in their professional development and meeting their many training requirements.
Tim has a passion for working with youth, not only at St. Vincent's School for Boys; he has also coached and co-facilitated youth leadership programs for more than 20 years. In addition to his many years of direct service experience, Tim holds certifications in a variety of training modalities, including Pro-ACT and restorative justice work.
As Catholic Charities turned towards a new national accreditation, Tim leveraged his ample experience in event production, marketing, and communications expertise, and professional relationships to expand our training offerings and community partnerships, accelerating the accreditation process. In 2019, Tim was promoted to the position of Director, Training and Professional Development.