Patty Clement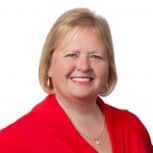 Patty Clement is a Catholic Charities Director of Client Services and an aging expert. She has more than 32 years of experience working in the field of Gerontology and has been with Catholic Charities for the past 28 years. A Certified Activities Coordinator specializing in Dementia Care, Patty supervises Catholic Charities aging programs, including Adult Day Care in San Francisco and San Mateo Counties, Alzheimer's Day Care Resource Center, Case Management, and Community Services for the OMI Senior Center.
Patty is a Commissioner for the San Mateo County Commission on Aging and a member of the Long Term Care Coordinating Council in San Francisco.
Patty serves as Chair of the Coalition of Agencies Serving the Elderly (CASE) a role she has had for nine years and advocates for services for seniors and adults with disabilities. She is also an advisory member of the CLF Advisory Board.
As an active member of the OMI Community Collaboration, Patty serves on the Steering Committee of this community-based collaborative that partners with other organizations and residents of the OMI Community that works to enhance and advocate for the needs of this diverse and underserved part of San Francisco.
Patty played an invaluable role on the sub-committees that created and that are now implementing San Francisco's Strategy for Excellence in Dementia Care. She also served as a Co-Chair of the Long-term Care Integration (LTCI) Service Delivery Subcommittee, and as a member of the LTCI Finance Subcommittee.
Patty served on the Board of Directors of the California Association of Adult Day Services (CAADS) for six years, working at the state and federal level advocating for the need to continue Adult Day Care Programs.
Patty is certified by the Red Cross in First Aid and CPR, as well as a nationally Certified Program Assistant by the National Council on Aging. She also holds a Bachelor of Science degree in Organizational Behavior from the University of San Francisco.