Ellen Hammerle, Ph.D, LMFT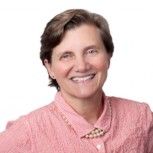 Dr. Ellen Hammerle joined Catholic Charities in 1998. In her role as Vice President, she oversees all Catholic Charities programs and services. During her tenure at the agency, she has been instrumental in supporting the financial and program operations to ensure the sustainability of Catholic Charities programs and services.
Dr. Hammerle holds a Doctorate in Clinical Psychology and is a licensed Marriage and Family Therapist with more than 30 years of experience. Her law degree informs her work and guides agency accreditation, criticality and impact analysis, as well as program sustainability and mitigation efforts. She leads the accreditation team.
Dr. Hammerle has extensive experience working with stress management, trauma, and communication skill development within relationships. She has written books and many articles on related subjects and is frequently called upon to give lectures and lead workshops. Dr. Hammerle frequently consults with city and county leaders and has served on many Boards including her service as President of the Marin Interfaith Council and Secretary of the Board for the Marin Association of Marriage and Family Therapists. 
Education:  Ph.D., Clinical Psychology and JD and MA, Clinical Psychology
Certificate: San Francisco Theological Seminary, Trauma: Spirituality and Psychology