Carmen Santoni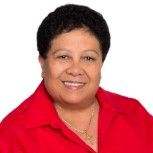 A Californian by choice, Carmen fell in love with the uniqueness of San Francisco during a tour of duty while serving as a commissioned naval officer for 11 years. Stirred by the plight of many of the city's homeless, she soon developed an interest in human services, but went on to pursue a career in human resources after leaving the military.
When caring for her mother, who suffered from blindness as well as onset Alzheimer's and dementia, Carmen gained firsthand knowledge and insight of the devastation afflicted elderly can bring to entire families. This deep respect led to her experience in nonprofit case management. Since 2007, Carmen has provided much needed support to homeless veterans in San Francisco and neighboring cities. Addressing the needs of the homeless population ultimately prepared her for meeting the basic needs of an increasing aging population.
Carmen has been a resident of San Mateo County since 1985 and has been committed to human services and social justice organizations since she chose the Bay Area as her home away from her native Puerto Rico.
Community and Professional Involvement
Member, Women Veterans Professional Network, San Francisco, CA
Member, Women Veterans Connect, San Francisco, CA
Education
MBA, Human Resources Management, University of Phoenix, San Francisco, CA
BA, Education, University of Puerto Rico, Rio Piedras, Puerto Rico