Armando E. Zumaya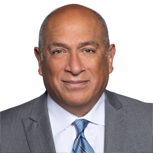 Armando Zumaya is a dynamic fundraiser with 35 years of experience stewarding highly effective campaigns for national nonprofit organizations and sharing his insights and expertise as a fundraising consultant and coach. He has held a variety of leadership roles that have given him a unique perspective on creating a prospecting culture inside development teams, building strong, accomplished teams, and improving major gifts prospecting systems for success.

Zumaya's fundraising career highlights include stewardship of two 1+ billion-dollar campaigns at both Cornell University and the University of California, Berkeley and historic seven- and eight-figure major gifts for organizations foundational to the health, culture, and diversity of our region such as Goodwill of San Francisco, San Mateo, and Marin Counties, The Mexican Museum, BRIDGE Housing, Playworks, The American Cancer Society, SpringBoard Schools, and the San Francisco Opera. His leadership roles at these nonprofits include Vice President of Development, Director of Major Gifts, Chief Development Officer, Annual Fund Officer, and Leadership Gift Officer, among others.
Zumaya is well known for his work teaching prospecting, including how to improve the prospect researcher and fundraiser relationship, solicitation, cold calling, major gifts techniques, and remote constituency fundraising to development teams. A renowned and well-reviewed speaker, he has lectured at APRA, AFP Chapters, AFP Hemispheric, APRA Chapters, BBCON, GIFT, AFP, The Foundation Center, Development Executives Roundtable, CARA, SAWA, MARC, Compass Point, Blackbaud, Forum on Fundraising and Academic Impressions. His writing has also been featured in the Stanford Social Innovation Review, the Chronicle of Philanthropy, APRA Connections, the Grassroots Fundraising Journal, and other publications.

Zumaya is passionate about the rise of Latinx Major Giving in the U.S. and has direct experience raising major gifts in the community. He emphasizes the imperative for a new vision of Latinx philanthropy throughout the nonprofit community.

Zumaya lives in Northern California and is a proud alumnus of the University of California, Riverside and Roosevelt High School in East Los Angeles.