Amy Hafter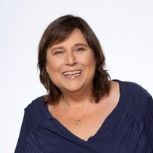 Amy Hafter has over 30 years of experience as a teacher, teacher mentor, and trainer, program manager, and researcher. She has visited over 1,000 classrooms across the country and has experience working with students, teachers, parents, and administrators at all levels in every type of educational setting. She has worked with students across all achievement and socio-economic levels and taught learners from preschool through adult. This experience helps Amy create cutting edge, sound learning opportunities for the youth in the East Palo Alto and Belle Haven communities. Through her tenure, she has created meaningful relationships with students, parents, partner schools and our community. She has also trained over 100 volunteers to work with the students and support the program. Prior to joining Catholic Charities, Amy worked for nearly two decades at SRI International (Menlo Park) as a research scientist. 
In Amy's first year as the Program Director of Youth Club at St. Francis of Assisi, average reading achievement for students was twice the average for students not in the program, and equal to 1 year plus 1 trimester of growth. Amy brings a vision for the Programs at Youth Club wherein children will succeed and grow to their full potential with the support of a caring, inclusive and interactive curriculum and a dedicated, passionate staff, and the data shows the vision is coming to fruition. 
Amy did her graduate work to become a teacher and mentor at UC Berkeley.