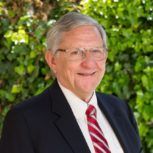 George is currently a member of the Finance Committees of the Yosemite Conservancy and St. Vincent de Paul Society, both San Francisco non-profit organizations. Previously, he was Executive Vice President and CFO of ABM Industries, Inc., a $2.8 billion organization that is one of the largest facility services contractors. George also served as Senior Vice President & CFO and Board Member of Transamerica Corporation, where he also held several other leadership positions. George began his career at Ernst & Young.
George has also previously served as the Alumni Board Director of Tulane University as well as Chairman of the Municipal Fiscal Advisory Committee to the Mayor of San Francisco. George is a member of the California Society of Certified Public Accountants, the American Institute of Certified Public Accountants, the Financial Executives Institute and the St. Francis Yacht Club.
George is a Certified Public Accountant in California and earned a B.S. in Mechanical Engineering at University of California-Davis and a M.B.A. at Tulane University.