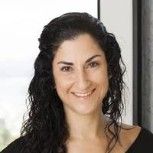 Adriana Dahik is a Partner and Managing Director at the Boston Consulting Group in the San Francisco Office. She works primarily with clients in the technology space as well as with clients in the public sector focusing on strategy and large scale transformations. Previously, Adriana worked for CEMEX in Mexico and Costa Rica. In her last role there, she led business intelligence, marketing, media relations, and corporate social responsibility for their Costa Rican operation.
She is actively engaged in social impact efforts for the Bay Area community, including collaborations with SFMOMA, as well as several initiatives in education. She is an active member of the St. Dominic's Parish in San Francisco where she is a Faith Formation Catechist.
Adriana holds an MBA from the Stanford Graduate School of Business and a B.A. in Economics from ITESM in Monterrey, Mexico.