Simon S. Manning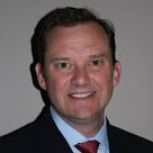 Simon joined the Board in March 2011. He is an investment banking professional with more than 20 years of capital markets experience. Simon was previously the head of Institutional Sales for the Investment Solutions group managing Distribution at Wells Fargo, Director of U.S. Equity-Linked Securities for Lazard Capital Markets, and held prior positions with Piper Jaffray and Company and Bank of America Securities (Montgomery Securities).
Simon earned his bachelor's degree in economics from Gonzaga University. An active alumnus, he is currently on their Board of Regents in addition to serving on their endowment investment committee. Since joining the Catholic Charities Board of Directors, he has lent his expertise to the Strategic Planning, Finance, and Executive committees, as well as chairing the Governance committee.
Simon was appointed President of the Board of Directors on July 1, 2013 and served as President until June 30, 2017.