Unaccompanied Minor Refugees
Since October 2015, more than 20,000 unaccompanied minors have flocked to U.S. southern borders seeking refuge; with 2,517 resettled in California.
Over the past thirty months, Catholic Charities Center for Immigration Legal & Support Services has served more than 100 of these minor refugees, most of whom have visited our offices in San Francisco and San Mateo seeking guidance and legal assistance during our weekly workshops. As we carefully assess the specific circumstance of each child's situation, we are able to steer him or her, and their legal guardian, toward the most optimal path to a successful outcome. Out of these assessments, we open cases for 24 to 30 of these children per year.
Refugees and immigrants from Central America come to Catholic Charities because they know they will be welcomed without judgment, treated with respect and will receive honest advice regarding their options for the legal right to remain in the United States. The process is time-consuming and costly, between $2,000 to $4,000 per case, and many of these families lack the financial resources to afford the full cost. Catholic Charities does not turn anyone away for purely financial reasons.
The unaccompanied (now resettled) minors primarily have two possible legal remedies: Political Asylum or Special Immigrant Juvenile Status (SIJS).  Asylum cases require between 40 and 100 hours of professional staff time plus appearances at either an asylum office or immigration court or both. SIJS cases require between 40 and 80 hours of professional staff time plus appearances at either juvenile, probate or family court plus immigration court plus the immigration service.
Catholic Charities Center for Immigration Legal & Support Services has been welcoming newcomers with dignity, respect, and professionalism for more than 35 years. The children now at our doorstep seeking our help are victims of extreme, sometimes unspeakable trauma. They have experienced or witnessed violence in their home communities and on the journey to the U.S. The process of detention, applying for asylum, and the prospect of deportation add to the stress and, for a child, may feel like a continuation of the trauma and distress from which they were fleeing. Family separation and "homesickness" can also compound feelings of depression and anxiety.
These children need the very best we can offer as a caring and giving community. They need financial assistance, legal advice and representation, food and clothing, medical care, and mental health counseling. Most of all, they need our compassion and care that respects both their dignity and their status as children.
Catholic Charities remains committed to meeting the needs of this very special population and is accepting monetary donations to help defray the costs.
Return to the Center for Immigration Legal and Support Services
---
Rafael Lopez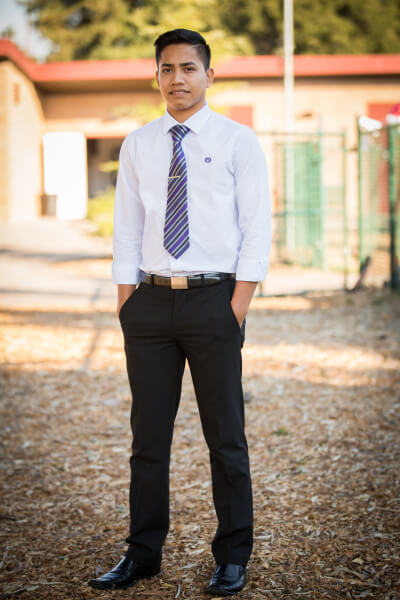 One individual who received services from Catholic Charities is Rafel Lopez, a young man who traveled alone from El Salvador to the United States at the age of 17.
"I feared for my life every day because of gang violence," said Lopez. "My only option was to flee. Once in California, I feared being deported. If I returned to El Salvador, I would be killed. Catholic Charities restored my hope and helped me gain legal status. I'm safe now and I have a shot at life."