Youth Club at St. Francis of Assisi Gets a Makeover and New Tech Lab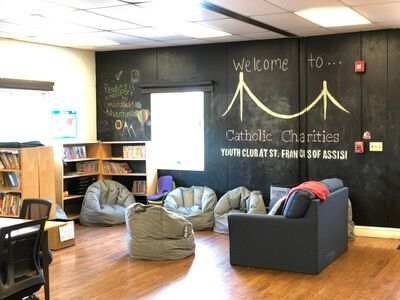 Valuable partners like Kathie Cage, CEO of the American Council of Teachers, the San Jose Sharks, and Western Digital share our vision of disrupting the cycle of poverty in our communities with opportunity. With their leadership, collaboration, funding, and muscle and our passionate team of educators led by Amy Hafter at Catholic Charities Youth Club at St. Francis of Assisi, we renovated the classroom at Youth Club and added a new technology lab for youth ages 7 to 11 in East Palo Alto.
The Youth Club space now features a reading corner with comfy beanbag chairs and lap desks where students can concentrate and study after school. And thanks to the generosity of our partners who helped upgrade our technology infrastructure, our youth now have a rich new technology lab that boasts laptops, tablets, a printer, and a projector and screen.
The stunning transformation reinforces the value of learning and hard work, makes technology accessible, helps build confidence and self-esteem, and provides a safe, welcoming space for students and staff alike.
Thank you to our wonderful benefactors and partners! Together, we are breaking cycles of generational poverty!