Remembering Cardinal Levada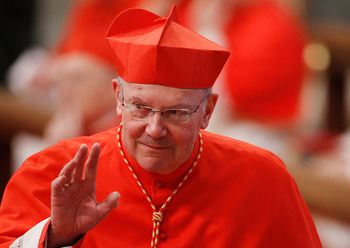 Most Reverend Salvatore J. Cordileone informed us this morning that Cardinal William Joseph Levada died peacefully in his sleep last night in his apartment in Italy.  He was 83 years of age.
  
Cardinal Levada was the Chair of the Board of Directors at Catholic Charities of the Archdiocese of San Francisco during his service as Archbishop of San Francisco from December 1995 until spring of 2005. He was known for loving our clients and our employees.  At the request of Pope Benedict XVI, he served as Prefect of the Congregation for the Doctrine of the Faith in Rome from 2005 until 2012 during which time he was the highest-ranking American in the Roman Curia.  
Archbishop Cordileone stated this morning, "I've known him ever since he was my seminar moderator in my first year of theology.  I always appreciated his guidance and his commitment to the integrity of the Church's Faith."
Funeral Services at Saint Mary's Cathedral in San Francisco are pending.  Please join the Catholic Charities family in prayer.
Blessings,
Jilma Meneses
Chief Executive Officer
Catholic Charities