Parish fund provides rental aid for East Palo Alto residents
Nicholas Wolfram Smith
Jan. 11, 2021
Two San Mateo County parishes and Catholic Charities of San Francisco partnered together during the fall to pay rent for nearly 50 clients who had fallen behind on payments during the pandemic.  

The collaboration between the three groups helped leverage aid quickly and efficiently to people who had lost their jobs and the ability to pay rent. St. Francis of Assisi in East Palo Alto met with prospective applicants and forwarded them to Catholic Charities staff, who handled applications and connected people with other social support services. St. Raymond Parish, Menlo Park used its Homeless Family Fund to write checks to landlords that covered unpaid rent as well as some future lease payments.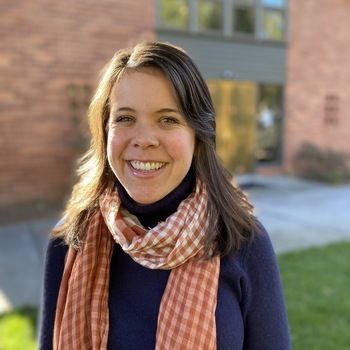 In total, the fund disbursed $180,000 between October and December for 48 applicants, with payments ranging from $3,000-8,000. 
Carmen Santoni, program manager for Catholic Charities, said the Homeless Family Fund helped many who are excluded from governmental assistance or reluctant to apply for it because they are undocumented. 

"They're fearful of reaching out for help because that would be a giveaway that they're not here legally," she said. 

The Homeless Family Fund existed since the 1990s and usually served as a onetime grant of one month's rent to help families move out of a shelter or stay in their home. When St. Raymond parishioner Sarah Berger Gonzalez was asked to lead the fund, she pivoted it to focus on families who were at risk of becoming homeless through eviction. 

Berger Gonzalez, who works at Stanford University's Basic Income Lab and has a background in social support programs and policy, said it was important the rental assistance program was built on "a relationship of trust" and avoided paternalism towards clients that could turn people away.

"If people were coming to ask for support, I believed they needed it," she said. 

Applicants were asked to provide identification, a copy of their lease agreement or rental payment receipts and an explanation of how they fell behind on rent. 

Nearly 14% of California renters were behind on rent according to U.S. Census data from August. One UC Berkeley researcher estimated nearly 2 million people in California were vulnerable to eviction based on the same data. 

In August, Gov. Newsom signed legislation that prevented evictions over unpaid rent until Jan. 31, 2021 if tenants could show they were suffering financially because of COVID-19 and paid at least 25% of their rent. Tenants still owe unpaid rent to their landlords, who can eventually try to recover it through small claims court. 

San Francisco Assemblyman David Chiu introduced legislation that would renew the eviction moratorium until Dec. 31, 2021. Newsom supports extending the moratorium but has not said how long it should be. 

While the state response is uncertain, Father Goode, pastor of St. Francis of Assisi, said he has focused on the concrete issue of "what can we do, how can the church respond to this?"

Housing assistance is a direct way for Catholics to live out the Gospel and he hopes to see the church become more involved in it. 

"We'll never be able to raise enough money to pay all the rent back, but I'm concerned about how we can spread the burden of Covid over an even playing field, so nobody is hurting entirely altogether but we're all sharing in the process. That's my dream. The thing right now is to see if we can get the church to step up," he said.

Father Goode said he appreciated how the parish's work in rental assistance had connected it to people who otherwise were not involved with it. "A lot of people I didn't know, I didn't have contact with them before, but the church was helping them and I think that was a big thing," he said. 

The Homeless Family Fund exhausted its accounts over the fall and is on hiatus now while it gets reformed to broaden its scope, Berger Gonzalez said. 

Berger Gonzalez noted how the fund at her parish had helped to change ideas around giving. People often want to donate tangible goods like food or clothing, but there has been increasing recognition at the parish that "we're on the edge of a humanitarian crisis if we do not prevent these individuals from being evicted," she said. 

Berger Gonzalez said she is hopeful that the parish's experience with the fund can be "a first step in asking some hard questions about what it means to be in solidarity with our neighbors and how we can reflect that we really are one community even though a freeway divides us. This can be the start of a really challenging but important conversation as we move forward here."