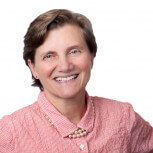 SAN FRANCISCO, CA, August 3, 2018 – Catholic Charities of San Francisco, San Mateo, and Marin, one of the Bay Area's largest human services agencies, is pleased to announce the promotion of Dr. Ellen Hammerle, JD, Ph.D., and LMFT to Senior Division Director. In this expanded role, Dr. Hammerle, a 20-year veteran of Catholic Charities, will oversee the agency's portfolio of more than 30 programs and hundreds of staff that annually serve more than 35,000 of the most vulnerable individuals in the Bay Area.
Dr. Hammerle has worked for more than two decades developing, overseeing, and monitoring Catholic Charities programs and the implementation of agency-wide policies and procedures for staff and systems best practices. She has held a number of positions, giving her the insight, breadth, depth, and understanding of client, staff, program, and partner needs vital to the agency's longevity, impact, growth, and success. She has played a pivotal role securing funding for the agency and will continue to help drive diversification of revenue sources.
"Ellen is a visionary leader with insight, empathy, and clinical and emotional intelligence who deftly cultivates a balance between program operations, organizational management, partner stewardship, staff mentorship, and adherence to policy," said Jilma L. Meneses, Catholic Charities Chief Executive Officer. "She builds effective collaborations, negotiates positive change, and brings systems expertise to oversee organizational development across divisions and creates effective and scalable growth management for Catholic Charities. I am honored to recognize her experience, expertise, and deep commitment to our clients, staff, and mission."
"Catholic Charities has been an integral part of San Francisco for more than 110 years – a true leader and collaborative community partner helping bolster and empower our neighbors when they most need help, solutions, and uplift," said Dr. Hammerle. "I am pleased to have been a part of that history, developing and evolving our programs as our clients and community's needs have changed. In my new role, I am eager to continue my contributions to the health and success of our agency, staff, clients, and community."
Dr. Hammerle's work at Catholic Charities focuses on community-based programs and services management with specialization in the areas of clinical needs, homelessness, housing, and HIV/AIDS treatment and prevention. She is knowledgeable about building training programs and psychological healthcare infrastructure in resource constrained environments. She has dedicated her life and career to those that are underserved, impoverished, homeless, multi-diagnosed, marginalized, and racially and culturally diverse in San Francisco. She has cultivated collaborations with directors, doctors, nurses, psychotherapists, and resource partners in the San Francisco homelessness, housing, and HIV/AIDS city services community to build resources for Catholic Charities programs. Her efforts have supported Catholic Charities programs as integral to the system of care within the San Francisco Centers of Excellence and Collaborative Partnerships.
Dr.  Hammerle holds a Juris Doctor law degree and a PhD in clinical psychology. She is a psychotherapist with the Community Healing Centers, an integrative psychotherapy non-profit organization.
About Catholic Charities
Founded in 1907 and rooted in our faith traditions of charity and justice, Catholic Charities is an independent non-profit organization dedicated to strengthening families and reducing poverty in the three counties of the Archdiocese of San Francisco (San Francisco, Marin, and San Mateo). Catholic Charities serves and advocates for the poor, the sick, the distressed, children, youth, families, immigrants, the disabled, and seniors, regardless of race, religion, color, sex, age, physical or mental disability, national origin, sexual orientation, or any other basis covered by local law. For more information on Catholic Charities, visit CatholicCharitiesSF.org.