Dedication of the New Eagleson Equestrian Center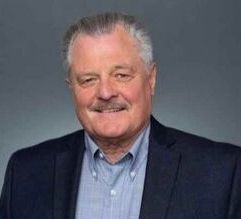 Kent Eagleson, Emeritus Director of St. Vincent's School for Boys, spent a lifetime helping boys grow into their potential. Last week, in recognition of his retirement from over 53 years of service, Catholic Charities honored Kent and unveiled the Eagleson Equestrian Center at St. Vincent's School for Boys.
The event was attended by members of Kent's family, men who expressed their appreciation for the love and guidance Kent provided them, members of the Godmothers and Godfathers who support St. Vincent's, Monsignor Schlitt who led a prayer for the new Eagleson Equestrian Center dedication, and many others who gathered to celebrate Kent's many achievements.
As a native San Franciscan and life-long Giants fan Kent was recognized by the Giants organization with a framed letter and personalized jersey with the number 53, in recognition of his 53 years of service.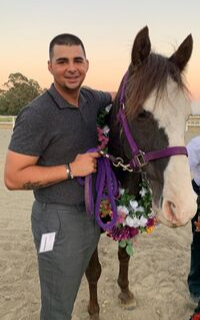 Eagleson Equestrian Center at St. Vincent's School for Boys
Kent created the Therapeutic Equestrian Program as a means for traumatized boys and adolescents to gain self-understanding and emotional growth. Many of the boys who come to Catholic Charities find it difficult to form lasting, emotional bonds due to their experiences of hardship. Animals, however, have an extraordinary way of reaching children. The bonds these boys form with the horses are a stepping stone to human relationships and they eventually learn to love and feel loved.
Today, there are seventeen beautiful horses who live on St. Vincent's campus and participate in St. Vincent's Therapeutic Equestrian Program. Two of these horses were donated personally by Kent.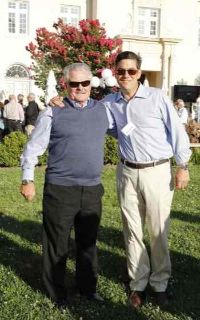 Kent's Legacy
Beyond the effect on many boys' lives, Kent has a tireless commitment to fundraising, which began because St. Vincent's needed saddles, vans, and a white fence to replace the prison-like barbed wire fence. Leveraging relationships built over his long career, Kent has raised in excess of $1,000,000 in private donations to repair and replace the exteriors on all five of the boy's houses, build an athletic field and running track, as well as construct new outdoor gathering and recreation spaces for the boys and their families.
It is through Kent's unwavering efforts that he and his staff have helped these children heal and grow into healthy productive citizens of our communities. Kent has truly set the bar and has shown unparalleled passion for the all-important work of Catholic Charities mission of strengthening families and reducing poverty - one person at a time.
When asked what motivates him to continue to do the work, Kent's modest response, "It's the work I'm supposed to do."  We congratulate Kent on this well-deserved honor and thank him for his unwavering 53-year commitment to serving the innocent victims of poverty, violence, abuse, trauma, and neglect.
To make a donation to Catholic Charities St. Vincent's Eagleson Equestrian Center in honor of Kent visit our donation page.
See more pictures.
To hear Kent's impact first-hand watch Jeremiah's story.