CATHOLIC CHARITIES CHIEF EXECUTIVE OFFICER DEPARTURE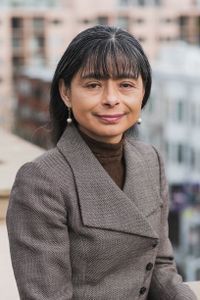 Jilma L. Meneses Leaving Catholic Charities of San Francisco, San Mateo & Marin Counties
SAN FRANCISCO, CA, October 15, 2021 – Jilma L. Meneses, Chief Executive Officer of Catholic Charities, has informed the Board of Directors she will be leaving Catholic Charities to accept a position on Washington State Governor Jay Inlsee's cabinet. She will lead the Washington State Department of Social and Health Services, serving between 2-3 million people annually. Her last day at Catholic Charities will be December 31, 2021.
For the past five years, Jilma's dedication and visionary leadership has shepherded Catholic Charities through significant growth, modernization, reorganization, and the intense challenges of a global pandemic and several natural disasters. The Catholic Charities Board of Directors has begun a national search for a new CEO.
The Board is pleased to announce Theodore (Ted) Borromeo, Catholic Charities Board Secretary has agreed to serve as the Catholic Charities Interim CEO during the recruitment process when Jilma leaves. Borromeo couples his 40 years of employment and labor law leadership at Fortune 500 companies such as McKesson, Sun Microsystems, Inc., Lockheed Missiles and Space, and Kaiser Aluminum & Chemical Corporation, with an ardent commitment to making an impact in his community. Meneses and Borromeo are already working closely together to provide steadfast leadership for Catholic Charities' nearly 500 employees and ensure the agency's vital work helping thousands of vulnerable individuals and families continues uninterrupted.
"It has been my honor and privilege to steward Catholic Charities through a period of consequential change and maturation. What began as a challenge to innovate one of the oldest, largest, and most comprehensive human services agencies in Northern California, transformed into an emergent imperative for us all to pivot and meet our community's exponential increase in need due to the pandemic," remarked Meneses. "I am humbled to have been at the helm of Catholic Charities during this period, partnering with exceptional colleagues who demonstrate an unwavering commitment to the most vulnerable among us every day – even when it puts them at risk."
"I am confident we have the right team in place to carry forth our Catholic Charities work delivering lasting, data-driven solutions to some of our most pressing human challenges – homelessness, generational poverty, inequality, immigration, and aging in isolation to name a few – with empathy, compassion, and unwavering determination. Our resilient, nimble employees have been strengthened by their experiences and collaboration over the past 20 months."
Meneses continued, "Together, with the Board and our courageous employees, we see light at the end of the dark tunnel of this pandemic. The next Catholic Charities CEO is well-positioned to undertake the social entrepreneurship projects that will play a central role in the continued sustainability of the organization for decades to come. I trust the next CEO also will unite the stakeholders of our service areas and strengthen our model of service."
"Now is the right time for me to transition to be with my family in the Pacific Northwest and make an impact in my home state of Washington. I thank the community of employees, volunteers, and clients, for giving me the opportunity of a lifetime to serve Catholic Charities for these past five years."
"Thanks to Jilma's leadership, business acumen, and strategic vision for growth and financial sustainability, Catholic Charities successfully weathered one of the most challenging times we've experienced in our lifetime," said Archbishop Salvatore Cordileone, Catholic Charities Board Chair. "In fact, this agency has been an exemplary model of resilience, innovation, and dedication serving more than 60,000 individuals last year alone. Because of her stewardship, our agency is stronger than ever and positioned to continue our commitment to the communities of San Francisco, San Mateo, and Marin Counties for another 150 years. The Board and community thank Jilma for her stellar leadership, immense heart, and passionate servant leadership under extraordinary circumstances. Our community is deeply grateful."

Joe Boerio, Catholic Charities Board President added, "On behalf of the Catholic Charities Board, we thank our colleague Ted Borromeo for embracing the vital role of Interim CEO for Catholic Charities. In addition to being a champion of Catholic Charities' work, employees, and clients, he has the expertise and leadership to guide the agency through this important transition."
About Catholic Charities
Catholic Charities is one of the largest, most comprehensive human services agencies in Northern California reaching more than 60,000 people a year in San Francisco, San Mateo, and Marin Counties. Catholic Charities plays an integral role in keeping our neighborhoods diverse, productive, safe, and healthy through more than 30 programs and social justice advocacy. The agency serves everyone and changes lives through lasting, data-driven solutions to some of the most pressing challenges in the community - homelessness, inequality, aging in isolation, generational poverty, HIV/AIDS, and immigration. For more information visit CatholicCharitiesSF.org.

For Media Queries, please contact Liza Cardinal Hand, Chief Communications & Marketing Officer at LHand@CatholicCharitiesSF.org