Donation Drives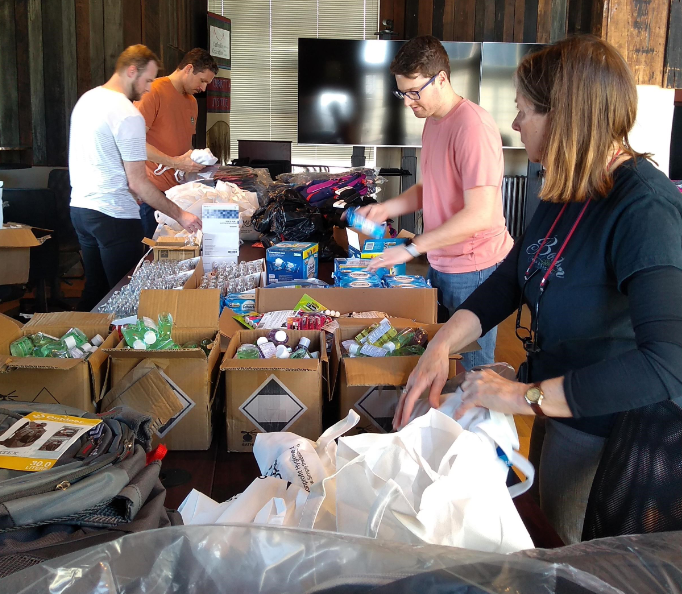 Make Masks
We need volunteers to make face masks for vulnerable residents in our housing programs for chronically ill, families and seniors in the bay area.  To find the best way to make a mask, please look at this New York Times Article and look at this DIY Facemask Building Tutorial.  Finished masks will be picked up in San Francisco, Marin and San Mateo counties.  Please contact Carol Laughlin if you are interested and fill out this form.
Snack Pack and Toiletry Kit  Project
Make healthy snack packs and toiletry kits for homeless families. Every day Catholic Charities staff goes out on the streets to help homeless families find housing. To make their lives a bit more bearable, our outreach teams bring food and supplies. We want to make this project easy.  Assemble the kits on your own, or as a group project.
A list of supplies is provided for adults and children for snacks and toiletries. They can be packed in gallon zip lock bags or reusable bags that you supply. When the kits are ready, we have three drop-off points or you can call and schedule a pickup.
---
Children's Toy Drive
Every day throughout our community, parents struggle to make ends meet and provide the basics for their families. Help bring a smile to a child and hope to family by participating in a toy drive.
We are collecting new, unwrapped toys for children 4-12 years of age, new pre-school through 5th-grade books, and family-friendly board games. (Toy guns or other toy weapons will not be accepted.)
We will distribute your gifts of cheer to the many children at our programs.
Thank you in advance for your generosity and for helping families in our community.
Email Carol Laughlin for more questions.
---
 Adult Gift Card Drive
A gift card of $25 to Target or Safeway goes a long way toward brightening the spirits of our neighbors and letting them know they are cared for and remembered.  As well as basic toiletries, such as deodorant and dry shampoo.
Thank you in advance for your generosity and for helping make this holiday season memorable and joyful for the most vulnerable in our community.
Email Carol Laughlin for further questions.