Why Futbol con Corazón? 
When we asked our unaccompanied minors living in the Bay Area what they needed to feel whole, their answer was surprisingly simple and powerful:  "Can we play soccer one day?" Futbol con Corazón was born. 
Now in its fourth year, Futbol con Corazón is a highly anticipated, daylong community celebration. Friends, coworkers, and/or family members join our enthusiastic, soccer-loving, unaccompanied minors to create soccer teams and compete on the field for a day. Our kids have played with the San Mateo Sheriff, Redwood City Police and Fire Departments, San Mateo County and Santa Clara County city officials, Telemundo and Univision reporters and anchors, and employees from companies like box, Google, Walmart, and many others. See coverage of last year's event on ABC7. 
Where:  Sacred Heart School
150 Valparaiso Ave, Atherton, California
When:  Saturday, June 22, 2019
Time: 9:00 am - 1:00 pm
Interested in fielding a team?
Create and sponsor your team of seven fleet-footed family members, friends, and/or coworkers and our amazing kids will join your team to make it stronger and complete! We've got five sponsorship levels: $25,000, $10,000, $5,000, $3,000, and $1,500. Donations are also welcome from those not joining us on the pitch but wanting to support these resilient kids.

Want to volunteer? 
We'd love your help to help us carry forth our vision on the day of the tournament.

Join us as a player, volunteer, or donor to make this day unforgettable for these amazing kids and help us continue supporting them in their adjustment to life in our community. To volunteer please submit this form.  If you have any questions email Futbol@CatholicCharitiesSF.org.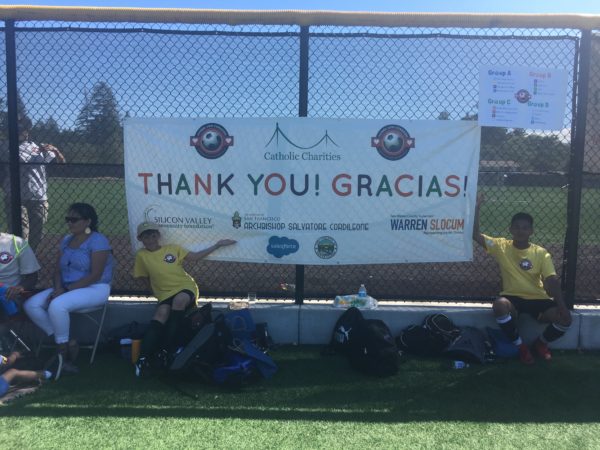 Do you know that unaccompanied minors are:
Seeking escape from persecution, abandonment, exploitation, serious deprivation, and violence in their communities. They also may be the victim of human trafficking.
Alone. Separated from family or orphaned.
From all over the world; with the majority from Guatemala, Honduras, El Salvador, and Mexico.
Only represented by counsel in court 32% of the time.
Confronted with a low 15% success rate when unrepresented in court. With representation, the success rate rises to 73%.