CYO Camp
The CYO Camp Online Store is Now Open!!
Visit the CYO Camp Online Store today to find all of your favorite gear from our programs!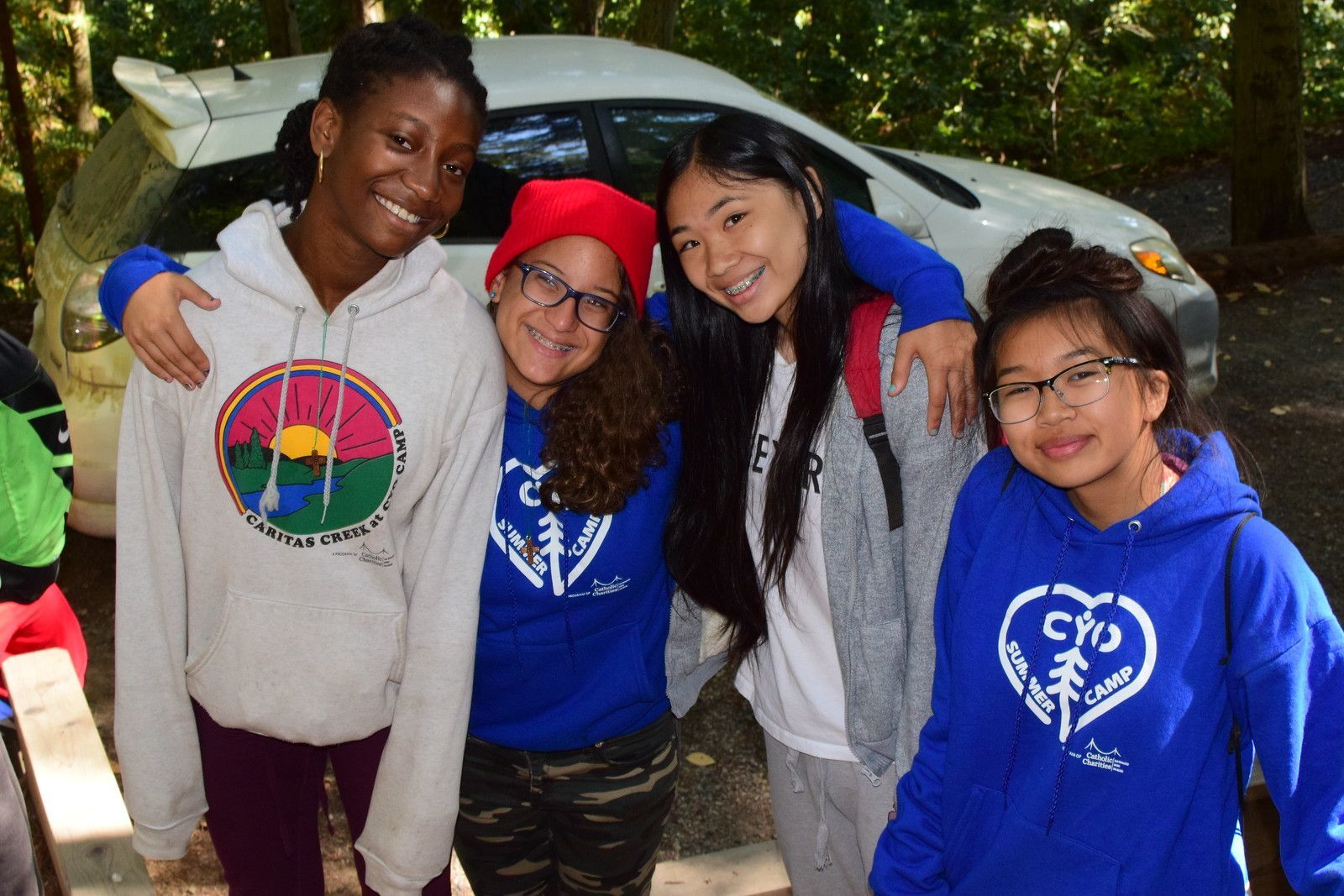 CYO CAMP IN OCCIDENTAL IS OFFERING AN ENRICHING DAY CAMP PROGRAM FOR ELEMENTARY AND MIDDLE SCHOOL STUDENTS IN FALL 2020 AT OUR OUTDOOR EDUCATION AND RETREAT CENTER!
Online Registration is now open! We are now enrolling for October.
With the resource of a 215-acre redwood forest, lake, stream and miles of trails, as well as large indoor spaces for schoolwork, we are offering elementary and middle school-aged children in grades 2-8 several options for Distance Learning coupled with Outdoor Enrichment during the fall semester with COVID safety measures in place.  We are also offering an afternoon-only Outdoor Enrichment option for students in Grades 1-8.
Our programs will begin on Tuesday, September 8th. The Full Day Program with Distance Learning is from 8:00AM-3:30PM, with a 2, 3 or 5 day per week option. The Outdoor Enrichment Program is from 12:30PM-5:00PM with a 2, 3 or 5 day per week option. If choosing either a 2- or 3-day program, you can submit a request for specific days during the enrollment process. We will honor your request if space is available on those days.
Full-Day Program: Children will participate in small groups of 10 with study time for schoolwork and plenty of learning in a beautiful natural environment. We will plan activities around your student's distance learning schedule so they can complete their on-line assignments. Staff will be there to assist, but will not be able to give direct one-on-one attention for prolonged periods. Student's engaged in distance learning will be given additional times each day to spend on schoolwork or other quiet individual activities such as reading or drawing. For the remainder of the day, the students will be outside, engaged in outdoor activities and exploration with experienced college-educated staff acting as facilitators of learning. This program is available for students in grades 2-8.
Outdoor Enrichment Program:  This program will be available from 12:30PM - 5PM and will be focused on outdoor recreation and activities that will not include Distance Learning support. There will be a time set aside each day for the students to do homework, read a book or have quiet time. This program is available for students in grades 1-8.
We encourage parents to communicate with each other to form their own cohort/group if possible. During the enrollment process, you will be able to list the children that you would like in your child's group. If a group formed by parents does not have enough students in it, we may add additional children up to a maximum of 10 per group.
We have broken down the cost by day, week and month, but registration will be by the month only. For September, registration will be for the date range of 9/8 through 10/2. For October, registration will be for 10/5-10/30. Registration for November will be available soon. Each month can be paid in full or by the week, with payment required for each week by the Friday prior.
Full Day Program (8:00AM-3:30PM)
2 Days per week: $65/day, $130/week, $520 per month
3 Days per week: $60/day, $180 per week, $720 per month
5 days per week: $55/day, $275 per week, $1045/month for September, $1100/month for October

Outdoor Enrichment Program (12:30PM-5:00PM)
2 Days per week: $56/day, $112/week, $448 per month
3 Days per week: $52/day, $156 per week, $624 per month
5 days per week: $48/day, $240 per week, $912/month for September, $960/month for October
Partial scholarships are available to families on a case by case basis. The Financial aid application will be available on our website and under "Parent Forms" in your family account. Please email the completed form to daycamp@catholiccharitiessf.org or fax it to 707-874-0230.
>> Register Now
Community. Stewardship. Leadership.
Catholic Charities CYO Camp fosters the growth and development of youth through the formation of positive relationships with self, others, nature, and God. We embrace the values and traditions that have made it an exciting, educational, and memorable place for tens of thousands of youth since 1946. Programs are designed to give campers and all who visit the opportunity to develop self-confidence while making new friends and taking on new challenges as they progress from year to year.
Why Choose CYO Camp?
CYO Camp is a Catholic community where children of all religious backgrounds feel comfortable participating in youth-centered programming – including our value-based themes of community, stewardship, and friendship. These programs build upon the incredible legacy that has made CYO Camp unforgettable for campers and staff alike.