CYO Retreat Center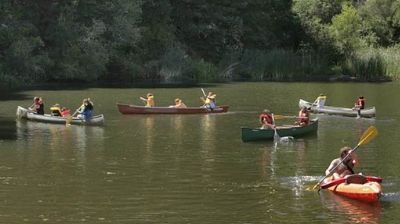 The CYO Retreat Center is located amidst 216 acres of towering redwood forest and open meadow in historical western Sonoma County, just six miles from the Pacific Ocean and a short walk away from the town of Occidental.
The property includes:
24 heated cabins house up to twelve people each and have centralized bathhouses.
A limited number of luxurious Day House apartments for group leaders and key attendees, offering a full kitchen, living room, and separate bedrooms and bathrooms.
A fully equipped and staffed main kitchen capable of preparing a wide selection of meals for up to 300 people.
A spacious 6,000-square-foot lodge with surrounding decks.
Bathhouses that are handicap accessible and have separate facilities for men and women, 5-6 toilets and 6+ showers in each, and many modern amenities such as a radiant heating floor system, automatic lighting, and fan system.
A large playing field with a regulation size softball field with a short backstop.
A large sports court with six basketball courts and a volleyball court.
A "sand" volleyball court and horseshoe pit.
Two full-size, heated pools.
Multiple camping and campfire sites, including two large campfire areas that each have bench seating for up to 100 people.
Multiple hiking trails.
Email us to book the CYO Retreat Center.  If you are interested in a CYO Transportation bus for retreat, please complete the form linked below.