CYO Camp Alumni
The CYO Camp Alumni Group was formed in 2011 to reconnect Camp and Alumni. The group is about sharing Camp experiences, connecting all generations, and giving back to a place that has given so much. Our mission is also to ensure the viability and sustainability of Camp for generations to come.
Since it's inception, the Alumni Group has taken on projects such as rebuilding the outdoor chapel/amphitheater, celebrating CYO Camp's 70th anniversary (in 2016), hosted Annual Alumni Days each summer, supported work weekends for on-site capital improvement projects, written the CYO Camp history, support staff training and camper activities and raised funds to send kids to camp. Since 2011 the Alumni Group has raised over $250,000 in camperships/scholarships for kids to attend Camp!
CYO Camp, nestled within over 200 acres of jaw-dropping redwoods, has been serving tens of thousands of youth since 1946. Rich in history, tradition, and values, CYO camp offers a large variety of outdoor activities including swimming, canoeing, archery, hiking, campfires, nature hikes, tie-dye, gaga ball, arts and crafts, capture the flag, celebration and sports.  Click below to learn more about the history of CYO Camp.
2021 marks CYO Camp's 75th anniversary! Due to the pandemic this past year many programs including CYO Summer Camp and Caritas Creek, had to either completely shut down or pivot in new and creative ways to help keep the doors open. It has been a tremendously challenging year for many.  We have a lot to celebrate and be thankful for after surviving the past year+. The 75th anniversary is proof that CYO Camp is here to stay and we are here to support not only the re-launch of opening Camp again, but helping to ensure the sustainability for CYO Camp for the future.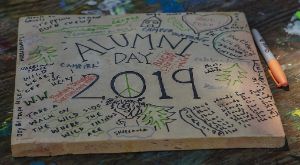 Recent Alumni Events: 
Join the CYO Camp Alumni Facebook group.
Donate to help us provide the CYO Camp experience for the next generation!
---
CYO Camp Alumni Golf Day
The first annual CYO Camp Alumni Golf Day held on Saturday, May 20, 2017, at Northwood Golf Course in Monte Rio was a huge success. Over 50 golfers participated at the famed Alister McKenzie layout on a picturesque, perfect day to be in "God's Country".
Word quickly got around and for the following 2 years, the 2nd and 3rd annual Golf Days sold out almost immediately. Traditions established included a shotgun start with a four person scramble. and anyone with any level of golf can play, as team scores (vs. individual) were scored, acknowledging all golfers. Following 9 holes of golf, everyone traveled to the nearby Union Hotel Occidental (site of many special CYO Camp gatherings, hosted by Barbara and Frank Gonnella) for lunch, awards, auction and program.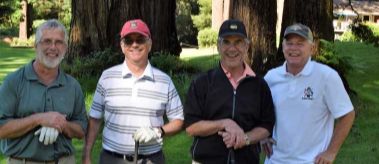 Our goal is to sponsor and support kids going to CYO Camp. In the past three golf tournaments the Alumni Group raised over $200,000 and sent over 2,000 kids to camp! One of the main purposes of our Alumni Association is the ongoing "Campership Campaign". We will continue this tournament every spring in efforts to raise money, get together, and honor our special alumni.
Warmly,
Louis Reynaud, aka Lou MacAdoo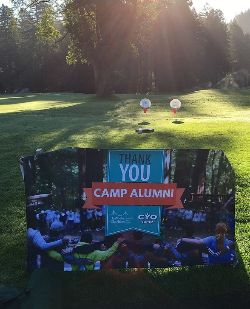 Quotes from Alumni Golf Day Participants:
"What can we say other than, it was the perfect venue for a perfect day! Nine holes of best-ball team golf on a great course in beautiful weather capped off by an excellent luncheon at the Union, all to help raise money to send kids to Camp, the place where we spent some of the best and most memorable summers of our lives. And to top it off, close to $30K was raised for this cause…incredible! Many thanks to Lou for all his efforts in putting it together and to everyone else who contributed…very cool and well done! All the best and looking forward to the 2nd annual."
- Charlie & Kathi Buada
"I've volunteered at many fundraisers, including golf tourneys.  I've never experienced such an enthusiastic group of individuals, willing to give so graciously and generously as they did at the first annual CYO Alumni Golf Day.  We are blessed to have had this dynamic group making positive impacts on the lives of kids.  Thanks to Lou MacAdoo and all who attended. This is why those campers always sang, "Give us Lou on our bus, give us Lou Lou Lou…".
- Jamie Sue Leanues-McClone
"The alumni golf tournament was a blast  My wife and I made a long weekend out of it on the Sonoma coast.  The golf itself was so fun for both seasoned and new golfers.   What a treat to play on that beautiful 9-hole course in the Redwoods in Monte Rio.  Great to spend time with so many old friends.  Lunch and socializing at the Union Hotel afterward were like attending a camp reunion!  Best of all, we raised over $30,000 to send kids to the camp we love "
- Tim Rea
Join the CYO Camp Alumni Facebook group.
---