Housing Stability & Homelessness Prevention
COVID-19 has placed enormous pressure on families and individuals struggling with job loss, illness, uncertainty, and financial instability, often putting their housing in peril. As the need for housing support increases exponentially due to the pandemic, we are here providing housing resources and expert case management, distributing housing and emergency subsidies, actively problem-solving housing solutions, and providing the care, compassion, expertise, and partnership vulnerable families need to create essential stability and thrive with hope and dignity today and into the future.
In response to COVID-19, the following programs are in place to help those in need.

---
Hotels for Families and Seniors Experiencing Homelessness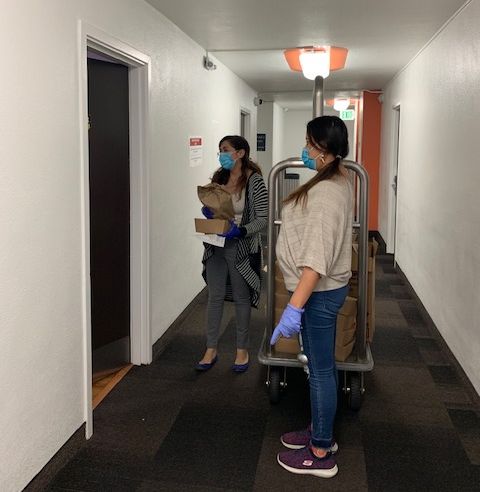 Catholic Charities employees deliver lunch to families residing at the 71-room SIP hotel for families experiencing homelessness
San Francisco
In April, we opened the largest shelter-in-place (SIP) hotel for families experiencing homelessness in partnership with the San Francisco Department of Homelessness & Supporting Housing in response to the threat of the prolonged coronavirus pandemic. The hotel is a vital place of respite, care, and safety for 71 families during COVID-19. Catholic Charities brings to bear decades of boots-on-the-ground experience working with the most vulnerable in our community. Learn more here.
Marin County
Since July 2020, Catholic Charities has been operating two shelter-in-place (SIP) hotels in Marin County as safe and calm respite for families and aging adults experiencing the perils of homelessness during the coronavirus pandemic. Drawing on its seasoned expertise working with aging adults and families who are either precariously housed or homeless, Catholic Charities operates one hotel in Corte Madera for 15 families (comprised of 42 adults and children two-weeks old to age 17); and a second hotel in San Rafael for 33 aging adults with health-related disabilities. Learn more here.

---

SF HOME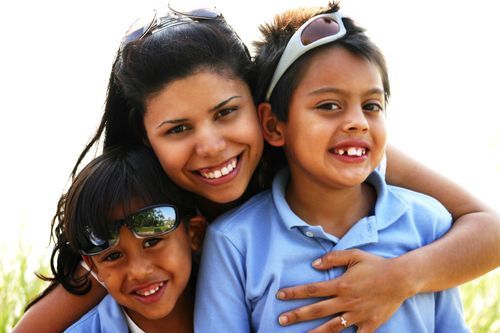 Continuing our vital work during COVID-19 and to meet the growing numbers of families struggling to avoid homelessness as a result of job loss and economic instability of the pandemic, our dedicated, knowledgeable SF HOME team provides in-depth case management and comprehensive support services to keep families together and housed. We strive to rapidly transition families on the precipice of homelessness into safe, permanent housing and independent living. We provide guidance in meeting educational and professional goals, teach families to develop self-sufficiency skills and manage their money, and help them develop solid relationships both in their families and the community. Learn more here.

---

Silicon Valley Community Foundation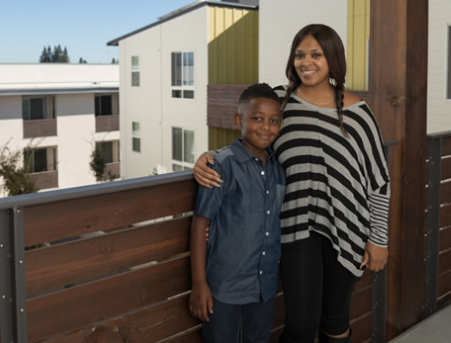 As more and more families and individuals face financial instability due to the pandemic, we are helping qualifying San Franciscans remain housed by distributing funds raised by Silicon Valley Community Foundation (SVCF). As a lead SVCF community partner, we assess applications for individual and family financial relief for rent, medical bills, groceries, and utilities through the SVCF COVID-19 Regional Response Fund. Our expert team at Catholic Charities SF HOME program approve applications and distribute the funds 
To learn more or to apply click here.

---

Give2SF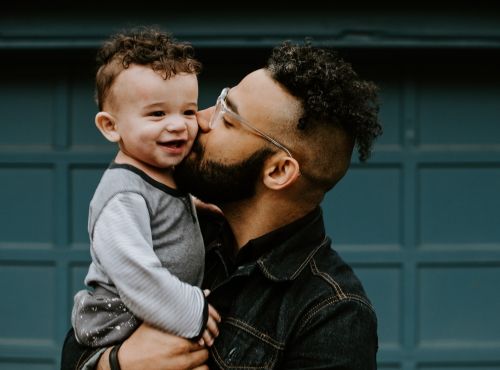 Through the San Francisco Mayor's Office of Housing and Community Development (MOCD)'s Give2SF COVID-19 Response & Recovery Fund, Catholic Charities helps stabilize housing and ease the financial burdens of eligible San Franciscans, regardless of immigration status, through immediate, temporary financial assistance for housing costs such as rent, mortgage payments, security deposits, utilities, HOA, and/or other housing-related fees.
To learn more, click here and to apply for Give2SF COVID-19 relief, click here.